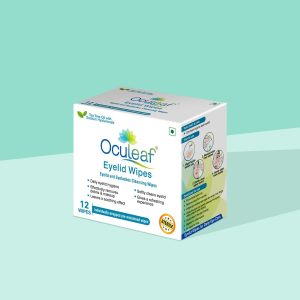 12 – Wet Wipes containing Tea Tree Oil, Sodium Hyaluronate, Glycerin, and D Panthenol are most effective for daily eyelid cleaning, and removal of makeup, effective in relieving itching, dryness & eye discomfort. 
Benefits: Start your strong vision journey with Oculeaf Eyelid Wipes! Clean and sparkly eyes will make you more beautiful and confident with refreshing and happy feelings. Use Oculeaf Eyelid Wipes every day to experience more joyfulness!
Product Brief:
Daily Eyelid Cleansing Wipes with Natural Premium Ingredients, set high standards in daily eyelid hygiene, that is just a wipe away.

Oculeaf Eyelid Wipes are pre-moistened with natural Tea Tree Oil and formulated along with Sodium Hyaluronate, Panthenol, and Glycerin

Cleanses eyelids & eyelashes instantly & remove oil, dust, debris, waxy materials, and other pollutants from eyelids & eyelashes. 

Removes eye makeup and does deep cleaning of eyelids effectively by exfoliating unwanted dead skin around eyelid margins.

Keeps soft skin around eyes moistened and hydrated, no rinsing is required, easy to use anywhere.

Tea Tree Oil in wipes kills Demodex Mites and other germs around the eyes, normally found in eyelids & eyelashes causing itchy eyes & discomfort. 

Start with daily eyelid hygiene, which will keep your eyes clean and sparkling as well as will make you more beautiful and confident with a refreshing happy feeling. 
How to use:

                  
For external use only. 

Wash Hands before use

Remove the wipe from the sachet, unfold the pre-moistened wipe, and wrap it over the finger. 

Close the eye and gently cleanse the eyelids, eyelashes, and face using side-to-side wiping. 

Don't touch eyes directly. 

Repeat for the other eye. 

No need to rinse after use

.




Key ingredients:

Melaleuca Alternifolia Leaf Oil (Tea Tree Oil), Sodium Hyaluronate, Glycerin, D-Panthenol, Chamomilla Recutita Flower Extract, & Aqua water

Other ingredients:

Propylene Glycol, Polysorbate 20, Polysorbate 80, Phenoxyethanol, Hyphophae Rhamnoid Oil, Triethanolamine, Lactic Acid, & Caprylyl Glycol.
Melaleuca Alternifolia Leaf Oil (Tea Tree Oil)

Tea tree oil, is known as melaleuca oil, is an essential oil that is produced through a distillation process from the leaves of the Australian tea tree. Tea tree oil has been found to have effective antimicrobial and anti-inflammatory properties, helps in reducing microbial loads on skin tissue, thus an effective agent to improve hygiene. 

Sodium Hyaluronate

Sodium hyaluronate is the sodium salt of hyaluronic acid, a glycosaminoglycan found in various connective tissue of humans. Sodium hyaluronate is a superior hydrating substant, that penetrates deeper into the skin and lasts longer. Getting highly used in premium cosmetic formulation hydrating and viscoelastic substance.

 

Glycerin

Glycerin, also known as glycerol, is a natural compound derived from vegetable oils. It's a clear, colorless, odorless, and syrupy liquid with a sweet taste.

Glycerin can help moisturize and protect the skin.

Panthenol

Panthenol is a chemical substance that derives from pantothenic acid. It is also known as vitamin B5 and a common ingredient in a wide range of skincare products due to its moisturizing, soothing, and anti-inflammatory properties.

Chamomilla Recutita Flower Extract

The Chamomilla Recutita Extract of the flowers stems and leaves of the chamomile plant contains essential oils, flavone derivatives, and coumarin. Chamomile flower extracts have a skin-soothing effect and support the regeneration of the skin.
Dimensions:
8.0 × 4.8 × 7.0 cm
Packaging:
Pack of 12 pre-moisten wet wipes.
Caution & Safety information
Single-use sachets for external use only. Keep out of reach of children. Store at room temperature, away from sunlight. Don't buy if the pack is opened or damaged. Don't use if you are allergic to any ingredient. If your eye condition persists, consult a doctor. Use a separate wipe for each eye. The cleanser is not intended to treat patients with any disease itself.
General Disclaimer
The contents of this website are suggestive, viewer should take their own view. For any treatment and cure of any disease, you should consult your eye doctor or eye care professionals. If you are pregnant, nursing, or taking other medicines in such special conditions consult your medical health practitioner.